4 Of The Best Fireplace Accessories To Buy Today
Now you've got your stone fireplaces installed, you can start thinking about how you want to dress them up so they really are a true focal point in your room – far better than the TV, wouldn't you say? Here are just a few of the many fireplace accessories you can buy these days. Enjoy!
Really give your fireplace the wow factor with this kindling set, which comes with a hearth brush, a bucket and a match box. It'll help keep your fireplace and hearth nice and tidy, while also looking incredibly stylish. At Christmas time, fill the bucket with pine cones for a really delicious burning smell that'll get you all feeling festive in no time.
If you've got lots of firewood and nowhere to put it, this upright rack is the perfect solution to all your storage problems. In actual fact, there are all sorts of different designs you can buy to help you solve this issue, but this is one of our favourites as you can fit so much wood in it!
Fallen Fruits Victorian fireplace screen
This would look amazing in front of a flickering fire – and it'll help keep you and your house safe as well. Its Victorian design would work well with any kind of fireplace, but particularly well with a similar aesthetic on the fireplace itself.
Traditional hardwood and leather fireplace bellows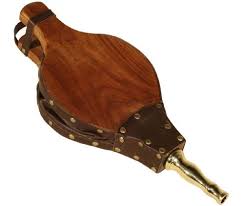 Crafted from hardwood and finished in a chestnut colour, these bellows would make a fine addition to any household fireplace. Whether you use them or not doesn't really matter. They're a style statement all on their own.